Eclipse provides a bookmarks feature out of the box which allows bookmarks to be placed in source code and text files and stored together with the project. However, usage of these bookmarks is tedious as creating a new bookmark requires the user to enter a label and direct navigation between bookmarks via keyboard shortcuts is not possible.
Quick Bookmarks extends the standard bookmarks by providing actions and shortcuts to quickly toggle a bookmark in the current editor line and to jump to the previous and next bookmark from the current cursor position.
Quick bookmarks are a subtype of the standard bookmarks. Their display options can therefore be configured separately, yet they are still included in Eclipse's own bookmarks view.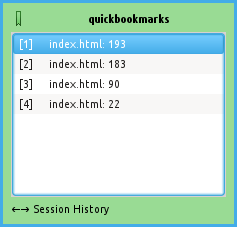 Review Quick Bookmarks at the Eclipse Marketplace. Become a follower at Facebook or Google+.
Version 1.3.1 of Quick Bookmarks was released on 2015-04-06.
Quick Start
Press Ctrl+Alt+B (Command+Alt+B on Mac OS) to set or delete a bookmark in the current text editor line. Press Alt+PgUp and Alt+PgDn to jump to the previous or next bookmark in the current editor. The same shortcuts combined with Shift jump to the next or previous file in the workspace when passing the first or last bookmark in the current editor. Press Alt+End to bring up a dialogue listing recent bookmarks. Pressing Alt+Home once places a quickmark at the current position. Pressing it again jumps back to the quickmark and deletes it.
You can read the user guide here.
Quick Bookmarks is licensed under the terms of the Eclipse Public License v1.0.